Effective mobile apps are born from a collaborative process. Associations shouldn't expect a great non-profit app to come solely from a technology vendor. How your staff works together to create the app determines its overall success or failure.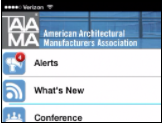 A collaborative process dictates whether your app delivers relevant education, discussion and engagement.  But what happens when your process is dysfunctional? Associations are shelling out big dollars to create mobile apps, but they are often underutilized, misunderstood, or even forgotten. Questions arise like: should we keep our app? Is it useful? What more can we do?
Organizations need...