How Engaged are Your Mobile Users?
So you've finally jumped into the mobile app game and you have an app.  Now what?  Does anybody know it is there?  If they do, are they using it, and what for?  This are common questions we get from clients who have launched an app, but don't know what to do next.
Many organizations have created their app and are looking for the first time at the statistics. The first thing they want to know is "how many downloads do we have?" Another common question is "How many users were on our app last month?"  These numbers are a good start, but not enough information to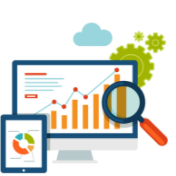 accurately measure engagement, which is the ultimate goal.  Engagement of your users will ultimately keep them connected to your organization and provides the path for them to view you as a source of what they are looking for.  It is far better to have 75 downloads and 25 active users fully engaged than to have 150 downloads with only 5 active users.  Those fully engaged will be happier users and more likely to tell others about your organization.
One of the great things about mobile technology is that it is all digital and all measurable.  Analytics can tell you how many users, how often, what they are looking at and even what pattern they follow navigating through your app.  Analytics are great.  But they don't tell the whole story by themselves.  You need to look at your communications with your users of the app to complete the picture.  It is important to consider what you are sending to them, and what response they are sending back to you.  This will tell you how engaged they are.
There are many tools in the mobile app toolbox with which to accomplish this bi-directional communication effort.  Here are some of the ones we use often: